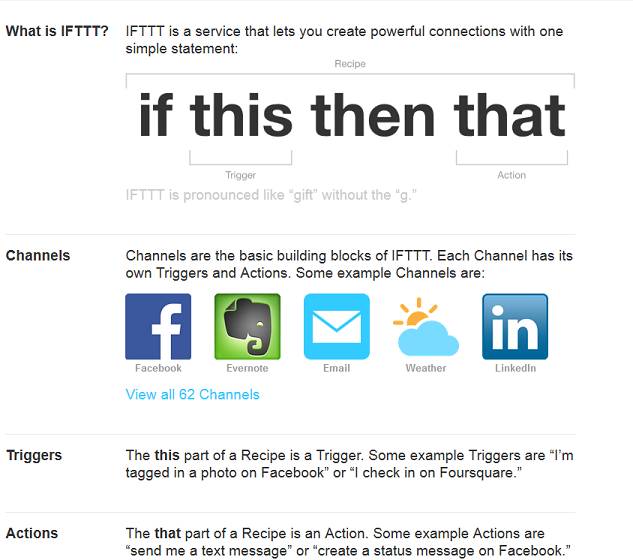 How many hours do you spend online checking email, reading posts, searching for information, checking sports scores, reviewing competitors, tweeting, sharing content or setting up reminders? These activities are necessary but also very time consuming and at points, a distraction away from business. What if there was a simple tool to help you automate some of this work, have it delivered to your communication channel of choice and was at no cost to you?
Launched in 2010, "If This, Then That" is FREE service that allows users to connect 62 different channels with "recipes" to help optimize your business, your life and your content. You create triggers "if this" happens "then that" which is the action, pushes the data to your desired channel.
Sample recipes:
Push RSS feeds to Twitter, Facebook, LinkedIn or Buffer
Receive a text message, email or phone call when a particular hashtag is posted
Have Facebook or Instagram images sent to Dropbox
Receive a text message if there is a forecast for rain
Star a Gmail and have it delivered to Evernote
Add Foursquare check-in history to Google Calendar
Receive a text message for new Gmail notifications
Send email attachments to Dropbox
Send an email to IFTTT to call your phone if it is missing
Automatically create a Twitter list of new followers to review at a later date
Twitter keyword search to your email
Schedule tweets using Google calendar
Have ESPN sports scores and breaking news delivered to your inbox
As you can see, the possibilities are almost limitless. By creating your recipes, you will save time and be a little more productive and organized. It is one of my favorite tools, simplifying content curation and automating a few of my daily projects.
"Time is really the only capital that any human being has, and the only thing he can't afford to lose.'" – Thomas Edison
How do you use IFTTT?
Image credit: IFTTT