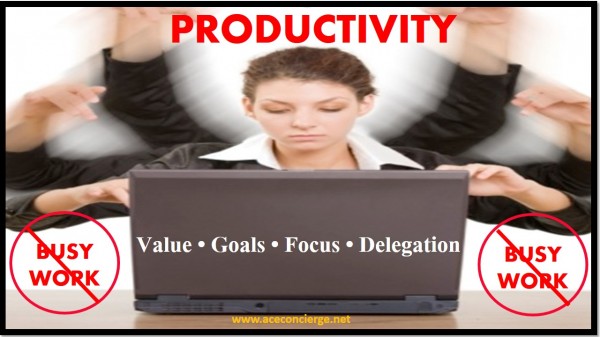 Do you feel as though your day flies by without a minute to spare? Maybe you even missed lunch, got home late, or forgot to pick up something at the store? Gosh, I am sure you know the feeling. You are constantly on the go and doing something BUT is that "something" productive and getting you closer to your goals? Simply being busy isn't results oriented.
Being productive means getting things done. As in you've actually accomplished something, not just filled out a fake status report marked "complete." Learn how the work you do makes it to the finish line and how it adds to the bottom line of your company.  Craig Golightly
At the end of the day have you reviewed your long laundry list and found that you still have a lot of washing to do? Well, you are not alone. Your entrepreneurial spirit is driving you to do it all and be it all, no matter what the cost. No matter what the activity.
You should seriously consider the busyness and the low payoff tasks versus the real core drivers of your business that produce the income. The tasks and projects that ONLY you can and should do.
If you are entrenched with 10, 20+ hours a week on social media management, curating content, writing, editing, proofing and scheduling blog posts, calendar management, writing newsletters,  creating documents and templates or acting as the project manager, then WHO is operating your business?
Value your time!
Honor your skills!
As I mentioned in: "Leveraging Time and Your Core Genius," when you are able to maximize your potential by focusing on your core genius, you become more productive and effective.  While there are many daily business tasks that require attention, it doesn't necessarily have to be on your time. Delegating the lower return projects and tasks gives you back your time to build your business, develop strategy, nurture relationships, foster loyalty, seek partnerships, and focus on your bottom line.
I received an email from an exceptionally valued long-time client who shared her To Do list with me.  She stated:  "These are just a few of the things I need to grow my business – and I am failing at doing them, but when I do, it totally pulls me away from the work I NEED to do that is billable." 
Her statement firmly relates back to leveraging time and focusing on what you do best to build and cultivate your company.
The following are some of the tasks and projects that she must faithfully devote her time doing in order to continue to expand her business.  What an expansive undertaking! Remember: Time is money! Invest wisely.
Are all of these her core genius? Certainly not, however; they are must do activities for business development and progress.
Keep my Social Media up to date for all these areas:

Links, research, updates
Linking to all other things I do – I.E.: when I write a blog post, making sure it is pushed out to every single place.
Doing key word searches in Google to make sure key wording is in every article for the most relevant search terms.

Document management systems – keep all my documents on the shared drive (in the cloud) up to date and in order by first cleaning up the mess I have going now… – including but not limited to:

Client files
Website files
Corporate files
Marketing materials
Research documents etc.

Source potential clients in my geographical location who are in start-up to med-sized businesses, active in Social media and who may or may not need idea sessions to get their business further along

Requesting a meeting for me
Setting it up
Reviewing and updating my calendar so I keep better track because I always fail to put things in calendars

Meet with me via Skype once a week to see what needs to be done and doing it
Use my contract template documents for me and update them for each new client as it takes me days to get to these.
Review and edit all files sent to all clients or outgoing parties
Do all my research for the topics I write about  so they can be backed by data
All invoicing and receipts for clients
All sourcing of industry related expert themes
Managing my LinkedIn polls
Creating my surveys for clients
Creating templates for all my follow-up reports for each facilitated session
Taking all of my current documentation and finding ways of repurposing it
Taking all of my product development efforts and interviewing vendors
Responding to and dealing with all incoming email from all websites with initial contact to let them know I am here and I did get their email, and when I will respond
Setting up of appointments with clients, prospective clients, peers
Researching all speaker opportunities and sending out my speaker packages and filling out the applications
Researching all clients who have recently undergone a merger or acquisition and sending the change management brochures out to them
Develop templates for my processes so I am not reinventing the wheel every time I work with a new client
Updating my BIO on every single software site I have it listed (and tracking where that is) so I can ensure it is always consistent every time I change it
Updating the company project software for me at the drop of an email – because I cannot always log in
Managing the company project software and following up with deadlines of contractors
Using your network to get them to post my quotes on quote sites so I continue to build credibility
Sourcing the least expensive book editors to edit my writing of each chapter of the book I never have time to edit.
Kicking my butt and making sure everything I say I "want to do" becomes an actionable item in the company product software and is due to YOU to review for me – rather than my leaving it in there without a date and just "wishing" it would happen
So, after reading this list, how many of these tasks do you hold on to that keep you working IN your business rather than ON it?  We sometimes don't realize all of the day to day activities that go into growing our companies, as they have become second nature while we are on autopilot.
All of these tasks and projects are NECESSARY but divert your attention from the most important facets of your company which ONLY you can do. These are the low payoff, non-income generators that aren't the best value of your time.
ACTION ITEM: Record every single task, project or activity for one week, noting which line items are income producers, core genius or something that was a time robber and should have been outsourced.
Come back to me in one week and share your list. Let's talk strategy and outcomes.
"One of the most critical was the ability to learn how to effectively delegate. It is a skill that every upstart entrepreneur must master if they wish to grow their business. Without delegation your business will be limited by your own time and energy." Matthew Swyers