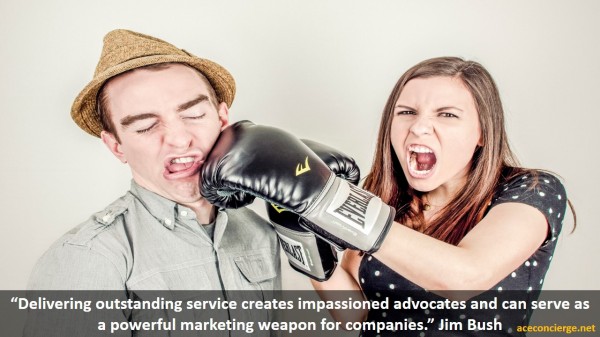 Customer service has always been and will continue to be a driving factor for all entrepreneurs, freelancers and business owners. Without the customer, you don't have a business so you had better be damn sure you are listening and understanding their needs because if you aren't, your competitor is.  You have the opportunity of creating a brand advocate OR a vocal, viral monster who will inform the world about your lack of service and attentiveness.
Merely satisfying customers will not be enough to earn their loyalty. Instead, they must experience exceptional service worthy of their repeat business and referral. Understand the factors that drive this customer revolution.  Rick Tate
Delivering the desirable and effective customer experience is an ongoing process and should extend beyond the close.  Don't let it stop there. You have earned an interested buyer and as in any successful relationship, the attentiveness to caring should not end simply because you sealed the deal. You should always be thinking of the small touches, the nuances and added service to continue to nurture your client. Think long-term partnership.
According to The 2012 American Express® Global Customer Service Barometer:
Social Media Savvy Consumers Have High Expectations: They'll Spend More When They Get Good Service and Ditch Companies When They Don't
More Than Eight in Ten of These Consumers Have Bailed on a Purchase Because of a Poor Service Experience Compared to 55% Overall
Nine in ten of Americans surveyed (93%) say that companies fail to exceed their service expectations.
Americans will tell an average of 15 people about positive experiences – up 67% from 9 last year
Americans will tell an average of 24 people about poor experiences – up 50% from 16 in 2011
 Social Media Raises the Stakes for Service (infographic)
Customer satisfaction is your competitive advantage: use it or lose it.
Providing quality unsurpassed service should be as simple as treating others the way you want to be treated. It seems so simple yet many companies fall short of this basic premise. The Golden Rule is your Midas Touch.
Think of a time when you didn't receive the service you expected:
How did it make you feel?
Did you reach out to customer service?
What method (s) did you use to tell your story?
Was your issue satisfactorily resolved?
Did you share your experience with others?
Would you use this company again?
Create a CUSTOMER EXPERIENCE that infuses:
Satisfaction in your products and services
Comfort that they know you care
Assurance that their issues are heard and respected
Security in believing in your company
Trust in your pledge to them
Loyalty to your brand and values
Confidence that you will go the extra mile
Reliance that your team wants to ensure 100% customer satisfaction
When you are able to serve and deliver, you will generate not only happy customers, but brand advocates; the cornerstone of your success because it isn't just your widgets that open the door. Build your company around real promises, outcomes and solutions to build the trust of your buyers and potential customers. Your business can't survive online without the trust from your consumers; earn the trust and loyalty of your audience; your community. Cultivate your relationships through authentic communications and reliability. Your network is always looking for validation to ensure that a potential partnership or connection is dependable, trustworthy and "real." Remove the feeling of vulnerability and risk of doing business with someone behind a keyboard.  Read about the 10 Tips to Build Trust Online.
Trust removes fear, doubt, and friction. It dislodges things that are stuck. If you want to help your dream client make change, work first on winning the battle for trust.  Anthony Iannarino
How do you create the best ongoing customer experience?